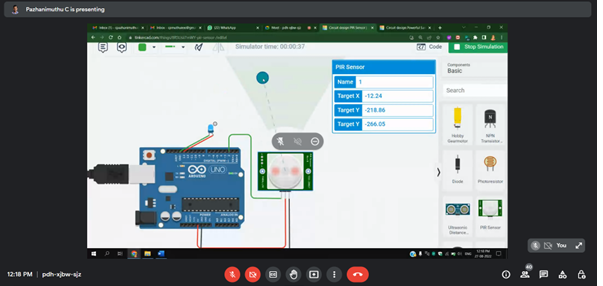 Online Workshop on Home Automation System using Tinkercad
Department of EEE organized an online workshop for 2025 batch on 27/08/2022. A heart-warming welcome was delivered by Prof.R.Revathi, AP (Sr.G)/EEE and Dr.V.Kumar Chinnaiyan, Professor and Head/EEE addressed the gathering and shared the importance of energy-saving concept, home automation or building automation in the current scenario. Dr.C.Pazhanimuthu, AP(Sl.G)/EEE has been invited as a resource person to deliver the information about how the automation can be implemented to our homes. He has shared his personal experience about how to send the command signals to operate the loads. Nearly 50 participants have attended the workshop. The session was an eye opening for all the participants. Prof.R.Revathi, AP (Sr.G)/EEE, delivered the vote of thanks.

Outcome
· To learn how to control all electrical or electronic devices in homes or even remotely through wireless communication.

To enrich the knowledge with the online tools